Food & Entertainment
Peter Graben - ManChef
Chocolate Bark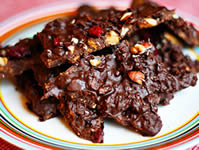 Line a baking sheet with parchment paper.
Slowly melt the chocolate in a heatproof bowl set over a pot of simmering water.
When all the chocolate has melted spread the chocolate on the baking sheet.
Rapidly add the Trail Mix spreading over the melted chocolate add fresh cranberries and blueberries, press the mixture down with palate knife.

Refrigerate for at least two hours to let it set.
Break into pieces and enjoy.



Dessert Wine Poached Pears
4 beurre bosc pears, peeled and halved
1 vanilla bean, split and scraped
1½ cups (375ml) dessert wine
1½ cups (330g) caster (superfine) sugar
Preheat oven to 180ºC (355ºF). Place the pears, vanilla, wine and sugar in a 2.5 liter-capacity, 22cm x 30cm baking dish.
Cover with aluminum foil and cook for 1½ hours or until the pears are cooked through and tender.