Food & Entertainment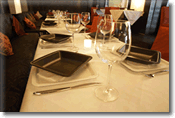 Thank you to Peter Graben, the ManChef for the following recipes.

The following recipes are courtesy of Dave Ross, owner of CATERING TO YOU

Many thanks to Eric Lorenz from the Vancouver International Tequila Expo for this margarita recipe.

Thanks to Robert Ashton, owner of Dayspring Soyacraft, for his Thai Peanut Tofu Salad recipe. Robert was a guest on the show September 11, 2010.

Thank you Deanna Young from Food for Thought Catering Ltd. for the following BBQ ideas and recipe. Deanna was a guest on the show July 31, 2010.